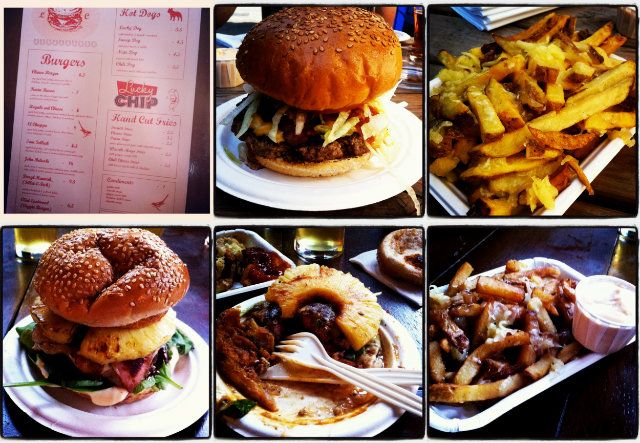 Menu, Royale wit cheese, cheesy chips
Tom Selleck, cheesy chips with aoli
Without a doubt
Lucky Chip
was one of my favourite burger joints of 2012, so much that I didn't mind the trek to Hackney (from SW15) to sample their fine burgers. I've been a couple of times and I'm literally itching to go back. Lucky Chip has residency in the
Sebright Arms
and serves burgers daily. The first time I went was during the diamond jubilee weekend in the summer which was a big mistake as everywhere was crazy busy but we got a table without too much of a wait so all was fine. I had the Tom Selleck which is a mighty fine combination of beef, pineapple, cheddar cheese, beetroot flavoured onion rings, smoked bacon and BBQ sauce. I don't normally go for burgers this complicated but it sounded delicious and most definitely tasted delicious as well. This was a big burger, huge in fact and when it arrived on the tiny little plate with plastic cutlery I was perplexed to how I was meant to eat it but after a bit of squishing and dismantling I managed it.
My second visit was on a fine Sunday afternoon after checking out the lovely
Columbia Road Flower Market
and
Goldsmiths Row Book Market
and we didn't even need to qeueue for a table as there were plenty free. I had the Royale wit cheese which is a much more simple affair with 100% dry aged beef patty, American cheese, iceberg lettuce, tomato, pickles and ketchup. As cheese burgers go this one was bloody excellent and I can't recommend it enough, seriously it tastes so good.
As for the sides, both times I had the cheesy chips with aoil which I personally think is the best you'll find. The chips are chippie chips i.e. a little bit squidgy and not that crunchy but I love them plus the aoli is the best garlic mayonnaise I have ever tasted and I'm not even a fan of garlic mayo normally.
Anyway, I bloody love Lucky Chip and would go back time and time again. It's definitely a 5/5 from me so if you're thinking of making the journey to Hackney I suggest you go now.
Lucky Chip can also be found at
Netil Market
on a Saturday afternoon (on my must visit list) and have opened their own
slider bar
at The Player in Soho (review to come soon).