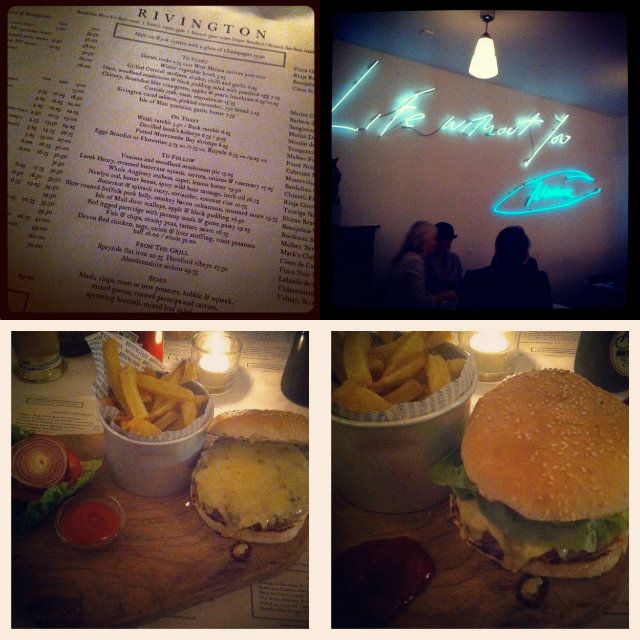 The
Rivington Grill
in Shoreditch had been on my must visit list for ages but I'm not often in east London so when an opportunity arose for a meal after checking out the recent
Gorilla Perfume Voice of Reason exhibition
at the Red Gallery I knew it was finally time to try this much raved about burger.
The Rivington Grill is a contemporary restaurant where the walls are adorned with art work from local artists including the Tracey Emin piece you see above. There are two menus, the a la carte menu and the all day bar menu and the burger is on the all day bar menu. There are 2 choices of burger and they all come with chips; cheese and/or bacon burger and the luxury burger with all the trimmings. I went for the cheese burger which is my go to option when sampling a new burger. The burger arrives on a plank in a self assembly style, the tomato, lettuce and onion are separate along with a pot of tangy burger sauce so it's up to you how you dress your meal. I hate tomatoes in burgers and always forget to order without them so this was perfect as I could choose to add the lettuce and onion with as much of the sauce as I liked. The burger was delicious, cooked to order (medium rare for me always) and well constructed so it didn't fall apart when eating with your hands. The self assembly style may sound fiddly but as this isn't a 'messy burger' I enjoyed the experience of creating my own perfect meal. The sauce was absolutely delicious so make sure you save some for your chips as it definitely beats tomato ketchup hands down! The beef was excellent quality which was evident in the taste and even though the poppy seed bun isn't my preferred style of burger bun everything tasted great together. The chips were perfect, soft on the inside and crispy on the outside and for me the perfect 'chip' size.
At £11 this isn't the cheapest burger out there but the quality is excellent and chips are included so it's a price I am definitely happy to pay. Would I recommend this to my friend? Definitely! Would I go back? Yes! All in all a great burger experience and a solid 4/5 from me.